Dr Joanna Święta-Musznicka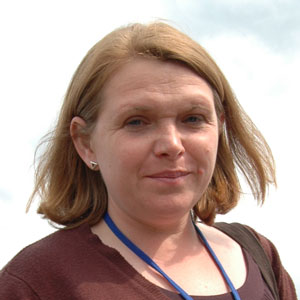 Laboratory of Palaeoecology and Archaeobotany
Department of Plant
Ecology University of Gdańsk
Wita Stwosza 59
PL - 80-308 Gdansk, POLAND
tel/fax. +48 58 523 61 14
j.musznicka@ug.edu.pl
I am a palaeoecologist and archaeobotanist associated with the Laboratory of Palaeoecology and Archaeobotany, Department of Plant Ecology, University of Gdańsk. My research interest is in Late-Glacial and Holocene environmental change in the Kashubian Lakeland and the Baltic coastal zone, but also, in methodological problems of the usefulness of the pollen spectra in reconstructing past vegetation. In recent years my main concern has been palaeoecological reconstruction of environmental change in the Gdańsk region using evidence from archaeological sites. Since 2001 I have participated in six scientific projects financed by the Committee for Scientific Research and the Ministry of Science and Higher Education in Poland (e.g. Natural environment of Gdańsk in medieval and modern times; Useful plants in Gdańsk history (10th-18th c.) in the light of archaeobotanical and historical data; Climatic conditions, composition and structure of vegetation as the factors forming modern pollen deposition in selected plant communities and regions of Poland – actuopalinological research). At the moment I am involved in the project: From wetlands to urban vegetation - using palaeoecological data to reconstruct environmental changes in the area of Gdańsk from 5th to 17th century (grant 2011/01/B/ST10/04020 from the National Science Centre; 2011-2014). I am a member of the Polish Botanical Society, Polish Association for Environmental Archaeology and the European Pollen Monitoring Program group.
Selected publications
Lignin degradation products as palaeoenvironmental proxy in the sediments of small lakes Journal of Palaeolimnology, 38, 2007, s. 555-567, (współautorstwo: K. Kuliński, A. Staniszewski, J. Pempkowiaki, M. Latałowa).
Useful plants in medieval and post-medieval archaeobotanical materials from the Hanseatic towns of northern Poland (Kołobrzeg, Gdańsk and Elbląg), (w:) S. Karg (red.), Medieval Food Traditions in Northern Europe, PNM Studies in Archaeology & History 12, 2007, s. 39-72 (współautorstwo: M. Latałowa, M. Badura, J. Jarosińska).
Źródła paleobotaniczne do rekonstrukcji wczesnych etapów rozwoju Gdańska, (w:) P. Kittel, J. Forysiak, L. Domańska (red.), Środowisko-Człowiek-Cywilizacja, t. 2, 2009, s. 175-185 (współautorstwo: M. Latałowa, A. Pędziszewska).
Wyniki sondażowych analiz paleoekologicznych osadów strefy litoralnej Jeziora Powidzkiego na Pojezierzu Gnieźnieńskim, (w:) A. Pydyn (red.), Archeologia Jeziora Powidzkiego, Toruń 2010, s. 177-196 (współautorstwo: M. Latałowa, M. Pryczkowska).
Variation in annual Pollen Accumulation Rates of Fagus along a N–S transect in Europe based on pollen traps, Vegetation History and Archaeobotany 19(4):2010, s. 259-270, (współautorstwo: I.A. Pidek, H. Svitavská-Svobodová, W.O. van der Knaap, A.M. Noryśkiewicz, A. Filbrandt-Czaja, B. Noryśkiewicz, M. Latałowa, M. Zimny, E. Bozilova, S. Tonkov, M. Filipova-Marinova, A. Poska, T. Giesecke, A. Gikov).
Comparing pollen spectra from modified Tauber traps and moss samples: examples from a selection of woodlands across Europe, Vegetation History and Archaeobotany 19(4):2010, s. 271-283 (współautorstwo: H. Pardoe, T. Giesecke, W. van der Knaap, H. Svitavska-Svobodova, E. Kvavadze, S. Panajiotidis, A. Gerasimidis, I. Pidek, M. Zimny, M. Latałowa, A. Noryśkiewicz, E. Bozilova, S. Tonkov, M. Filipova- Marinova, J. van Leeuwen, L. Kalnina).
Salvinia natans in medieval wetland deposits in Gdańsk, northern Poland: evidence for the early medieval climate warming, Journal of Paleolimnology 45(3):2011, s. 369-383 (współautorstwo: M. Latałowa, J. Szmeja, M. Badura).
Combined pollen and macrofossil data as a source for reconstructing mosaic patterns of the early medieval urban habitats – a case study from Gdańsk, N. Poland, Journal of Archaeological Science (współautorstwo: M. Latałowa, M. Badura, A. Gołembniki). (w druku).