Suchań, Distr. Stargard
The site lies in the ancient valley of the Reczyca R. This is an area with well-springs, a typical setting for Migration Period cult deposits known from Scandinavian finds. In October 2006 three archaeological objects were discovered by accident, a few metres apart, elements of a scattered Late Migration Period deposit. So far the following have been recorded and attributed to the deposit: two Nordic bracteats, three ring pendants and a ring. Definitely the most exciting are the Scandinavian bracteats (type C), the first to be recorded more recently in Poland. The image on the bracteat is a stylised representation of a horseman. The border is with a runic inscription, below the horse's head – a swastika. This representation is a strongly distorted imitation of the figure of the Roman emperor on horseback, known from solidi, gold medallions and their copies discovered on territory of Barbaricum. This motif may be identified as Odin on horseback The number of iconographic analogies is very small. They were recorded in south Sweden, the island of Bornholm in particular. According to M. Axboe, a bracteat from the same group, discovered in 2010 in northern Zealand, was struck using an identical die as the specimen from Suchań. M. Axboe dates it to around AD 500. Also in this deposit was a ring of spirally twisted wire in the form of a double coil, type VI 30 var. in the classification of K. Andersson, and three ring pendants of Scandinavian type which find closest analogy in a deposit discovered in 2001 at Sorte Muld II on Bornholm.
The site at Suchań was investigated (incl. air photography and geophysical survey) to identify the exact location and context of the scattered Migration Period deposit and possibly, to discover its remaining elements. It turned out that the site was an area of a long-lived settlement, one apparently occupied in succession during the Late Pre-Roman-Roman-the Migration periods. One of the finds recovered from the topsoil was a cruciform brooch, type Bornholm, and a bronze animal-style Thuringian brooch, unique east of the Odra R. This presumably incompletely recorded deposit apparently belongs in the Migration Period, phase D3/E, roughly the second half of the 5th or early 6th c. AD. It documents the infiltration at the end of Antiquity of Scandinavian power elite from south Sweden and Bornholm to the area of Western Pomerania, presumably the forerunner of the later Viking influence in this region. From the point of view of research it is of utmost importance to determine the closer context of deposition of this collective find and the broader background of settlement in the region during the Migration Period. This is one of the reasons why it is so important to secure and examine a palynology profile from the area next to the settlement at Suchań.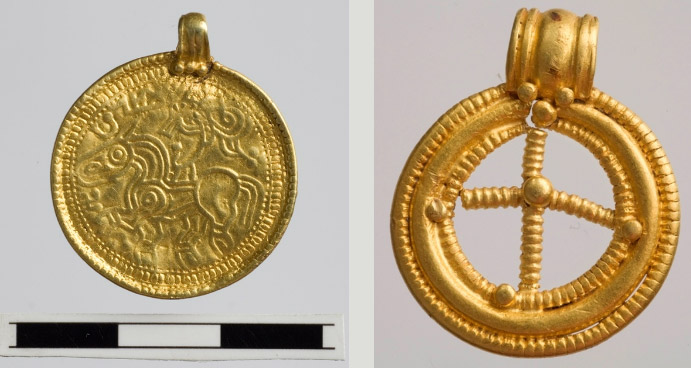 Type C bracteat no 1, Suchań, Golden pendant, Suchań (collection of the National Museum in Szczecin, © MB)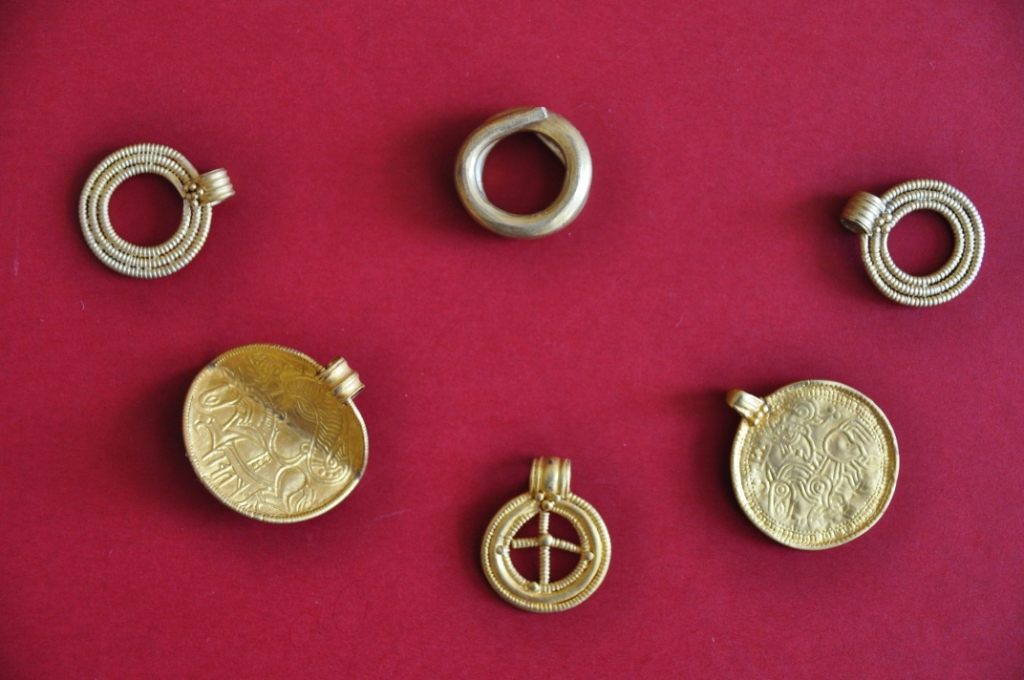 The Deposit from Suchań (Photo: K. Kowalski, collection of National Museum in Szczecin)